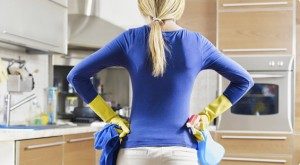 Many people think that hiring a professional cleaner is something that only rich people can afford, but this has turned into a necessity in the fast and stressful life we live.
Not everyone can be a productive employee, fun and good friend, loving parent and perfect householder. Keeping up to all these requirements is something that few can manage, but if you hire a professional cleaning service you will stop worrying about keeping your house cleaned and well maintained.
The benefits of hiring a cleaning maid are many – you'll have more time for yourself, you'll be able to spend more time with your family, more time to go out with your friends, your house will be cleaned in a professional manner and will always look and smell great and the best of all – you'll have all the free time during weekends.
All you have to do to is to call Cleaners Chiswick and we will quickly give you a quote. Having a helping hand around the house is something necessary, meaningless if you live in a big house or a small flat. Many elderly people use our services, because they are just not capable of cleaning their entire home by themselves.
Our staff is insured and each one of them is thoroughly checked until we are convinced that they are reliable and capable of performing the required job. Our workers are loyal and you shouldn't worry about theft or any other mayhem, we wouldn't send a shady person at your place! We offer the best domestic cleaning services in London and we can assure you that our workers are well trained and qualified for the job.
About Chiswick
Chiswick
Chiswick is a large suburb of west London and part of the London Borough of Hounslow. Having good communications with London from an early time the area became a popular country retreat, and as part of the suburban growth of London in the late 19th and early 20th centuries the population of Chiswick significantly expanded.
Chiswick Urban District
Chiswick was a local government district in the county of Middlesex, England from 1858 to 1927. In 1883 the commissioners were replaced by a local board (which was also an urban sanitary authority) created under the Public Health Act 1875. the Duke of Devonshire retained the right to nominate a member of the board so long as he continued to hold 500 acres (2.0 km2) in the parish.
Chiswick House
Chiswick Villa is built of brick and its façade fronted with Portland stone with a small amount of stucco. The walls of the Villa, interrupted only by the porticos and Venetian windows, were deliberately austere, yet its interiors more refined and colourful. Two features of Chiswick Villa were revolutionary in English architectural practice- the centrally-planned layout, and the geometry of the rooms.
Chiswick Bridge
Chiswick Bridge is a reinforced concrete deck arch bridge over the River Thames in West London. Built on the site of a former ferry, the bridge is 606 feet (185 m) long and faced with 3,400 tons of Portland stone. At the time of its opening its 150-foot (46 m) central span was the longest concrete span over the Thames.