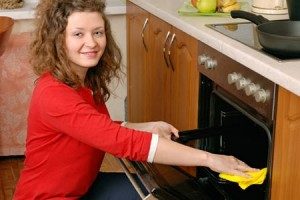 Every house has at least one oven and every housewife knows firsthand how hard it is to clean a used oven. Ovens are one of the many electrical appliances that are used on a daily basis and they quickly get dirty, but scrubbing all that dirt off isn't easy and even if you manage to do it, your oven will still not have proper hygiene. This is why your best option is to hire our professional oven cleaning services located in Chiswick, W4 London.
Our team of oven cleaners in Chiswick has a lot of experience in cleaning ovens and we only use good and efficient products that will not only give your oven a clean look, but also greatly improve its hygiene. Our team works in a professional manner and they won't start cleaning until they find out what they have to deal with – first they'll analyze the size and condition of the oven. The price depends on the oven's size, but it varies between 30-42 GBP.
All of the products we use are environmentally friendly and cause no side effects, trigger allergies and whatsoever. The entire body of the oven will be cleaned along with the racks and grill. Detachable parts will be soaked in a special cleaning solution and afterwards rinsed, before being descaled and disinfected. Usually doing this yourself requires at least half a day, but our team will handle this job for just 2-3 hours and with a better result.
Professional oven cleaning services like ours guarantee a wonderful final result, but if you are not satisfied with the job, we offer a complimentary cleaning.