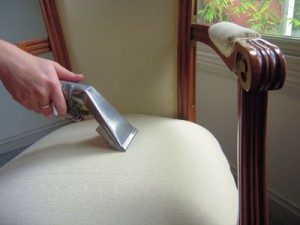 Have you ever thought of throwing out your sofa or chair, because it has lost its good look? If you have, then better think again! Our expert services in Chiswick, W4 London can easily restore the good appearance of your upholstered furniture.
We use a unique upholstery cleaning system that will return the original look of any upholstered furniture you have. An interesting fact is that there are various materials used in upholstered furniture – some of them are silk, velvet, ultrasuedes and suede. This may sound complicated, but don't worry – our cleaning teams in Chiswick have lots of experience and know how to clean all types of upholstery.
Our specialists will analyze the construction and fabric of your furniture and will then select the best cleaning method. We use relevant chemicals and equipment which are especially useful when cleaning upholstered surfaces like chairs, mattresses, curtains, sofas etc. Through the years our sofa cleaning services have proved to be one of the most effective and we assure you that you will be satisfied by the final result.
The method we use involves vacuuming, spraying special environmentally friendly detergents and steam cleaning. The process will remove all spots, stains and unpleasant odors. We will also disinfect, sanitize and apply a selected fragrance to your furniture.
We also offer a protection solution called "Scotchgard". This is a special product that significantly reduces the probability of permanent stains and preserves the furniture from scratches. This is a very effective solution which doesn't trigger any allergies and is environmentally friendly.