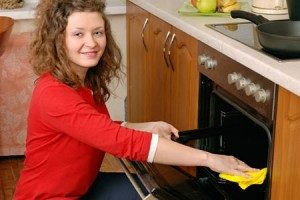 Every house has at least one oven and every housewife knows firsthand how hard it is to clean a used oven. Ovens are one of the many electrical appliances that are used on a daily basis and they quickly get dirty, but scrubbing all that dirt off isn't easy and even if you manage to do it, your oven will still not have proper hygiene. This is why your best option is to hire our professional oven cleaning services located in Chiswick, W4 London.
Our team of oven cleaners in Chiswick has a lot of experience in cleaning ovens and we only use good and efficient products that will not only give your oven a clean look, but also greatly improve its hygiene. Our team works in a professional manner and they won't start cleaning until they find out what they have to deal with – first they'll analyze the size and condition of the oven. The price depends on the oven's size, but it varies between 30-42 GBP.
All of the products we use are environmentally friendly and cause no side effects, trigger allergies and whatsoever. The entire body of the oven will be cleaned along with the racks and grill. Detachable parts will be soaked in a special cleaning solution and afterwards rinsed, before being descaled and disinfected. Usually doing this yourself requires at least half a day, but our team will handle this job for just 2-3 hours and with a better result.
Professional oven cleaning services like ours guarantee a wonderful final result, but if you are not satisfied with the job, we offer a complimentary cleaning.
About Chiswick
Chiswick
Chiswick is a large suburb of west London and part of the London Borough of Hounslow. Having good communications with London from an early time the area became a popular country retreat, and as part of the suburban growth of London in the late 19th and early 20th centuries the population of Chiswick significantly expanded.
Chiswick Urban District
Chiswick was a local government district in the county of Middlesex, England from 1858 to 1927. In 1883 the commissioners were replaced by a local board (which was also an urban sanitary authority) created under the Public Health Act 1875. the Duke of Devonshire retained the right to nominate a member of the board so long as he continued to hold 500 acres (2.0 km2) in the parish.
Chiswick House
Chiswick Villa is built of brick and its façade fronted with Portland stone with a small amount of stucco. The walls of the Villa, interrupted only by the porticos and Venetian windows, were deliberately austere, yet its interiors more refined and colourful. Two features of Chiswick Villa were revolutionary in English architectural practice- the centrally-planned layout, and the geometry of the rooms.
Chiswick Bridge
Chiswick Bridge is a reinforced concrete deck arch bridge over the River Thames in West London. Built on the site of a former ferry, the bridge is 606 feet (185 m) long and faced with 3,400 tons of Portland stone. At the time of its opening its 150-foot (46 m) central span was the longest concrete span over the Thames.